I really wanted to wait until I had my hands on some spelt flakes again before sharing this recipe with you, but lo and behold I found an ancient grain cereal blend in my local grocery store! I could hardly believe my eyes when I saw the words "ancient grain" printed on an actual package. Good ol' Rogers makes this ancient grain blend of porridge oats with oat, rye, barley, spelt, khorasan (kamut) AND quinoa flakes. I literally said "whaaaaaa?" out loud in the store and knew I just had to try my granola recipe with it.
Now, the first time I made granola I did look at a recipe, but silly me didn't quite read through the entire thing before I started (I've got to stop doing that!). While that granola was edible, I had missed the part where the dried fruit gets mixed in AFTER the granola has baked and cooled so I had very caramelized and hard to chew raisins sprinkled throughout. Live and learn…. sorta. I started making a variation of granola from the Oh She Glows Cookbook where I took my favorite ingredients, poured them into a bowl and winged it. Worked really well, until my man's Mom asked me for the recipe. Doh!
I made it one more time and "eyeballed" it with measuring cups and spoons to bring you this slightly sweet, clustery goodness. I dare you not to snack on it right out of the jar. 😉
Happy baking!
If you liked this recipe you are going to love these ones!
Ancient Grain Blueberry Banana Baked Oatmeal
Teff and Spelt Blueberry Waffles
Toasted Ancient Grains Muesli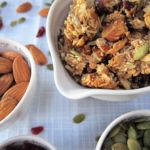 Ancient Grains Granola Clusters
Ingredients
1/2

cup

finely ground almonds

1 1/2

cups

coarsely chopped almonds

3

cups

Rogers ancient grain blend porridge oats

or spelt flakes or rolled oats

1/2

cup

raw pumpkin seeds

1/2

cup

raw sunflower seeds

1/2

cup

unsweetened shredded coconut

3/4

cup

dried cranberries

1/2

tsp

sea salt

1/2

tsp

ground cinnamon

2

tsp

vanilla extract

1/4

cup

local honey

1/4

cup

coconut oil
Instructions
Pre-heat the oven to 275 degrees F. In a large bowl, mix together the almonds, oats, seeds, coconut, cranberries, salt and cinnamon. Set aside.

In a small saucepan, melt the coconut oil on low heat. Remove from the heat and add the honey and vanilla extract. Stir to combine.

Drizzle the liquid over the dry ingredients and stir until the mixture is coated.

Line a large baking sheet with parchment paper. Spread the mixture evenly onto the baking sheet and gently press down to compact it.

Bake for 20 minutes, then rotate the baking sheet and bake for another 20 minutes or until granola is lightly browned on the bottom.

Let the granola cool completely before breaking into clusters. Store in air tight jars or containers in the fridge for up to 4 weeks.