Last year around this time I heard my Mom mention the word "Hutzelbrot", that she was going to make it and that is was one of my Oma's favorite Christmas goodies. Of course, I was intrigued. I remember how surprised Oma was, she practically squealed with glee to receive it. However, after I found out Hutzelbrot is essentially a bread jam-packed with dried fruit and nuts I was less than thrilled. Images of dense cake with brightly coloured cubes of fruit in it passed through my mind, you know the ones right? Gag.
Let me be up front here, this German Fruit and Nut Spelt Bread is NOTHING like that. But I didn't know that until I made it and nibbled it.
This year, I knew that I wanted to at least make it for Oma but when I bit into a slice it was heaven. It literally felt like I was tasting Germany. My eyes closed, I couldn't help from making those mmmm sounds and I chewed slower so I could savour every moment. The sweet of the fruit, the crunch of the nuts and the delicate gingerbread flavour was so perfect. The genes in my blood whooped with joy!
That joy I felt spread right across my Oma's face when I presented her with a loaf. She shared with me that when she was young her mother (my Great-Oma Sophie… my namesake) would make Hutzelbrot at Christmastime and after they came back from skiing they would all enjoy a slice with some mulled wine. Makes me smile just thinking about it.
This German Fruit and Nut Bread seems to be one of kind as I wasn't able to find anything similar online. The ones I found had far more dough, far less fruit and nuts and used yeast. So from my Great-Oma, to my Oma, to my Mom, to me I share this precious recipe with you all.
Happy baking!
If you liked this recipe you are going to love these ones!
German Christmas Stollen with Spelt Flour
Chocolate Hazelnut Swirl Spelt Bread
Bavarian Walnut Spelt Stollen
Recipe updated December 16, 2019.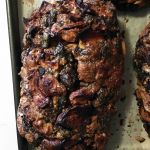 German Fruit and Nut Spelt Bread (Swabian Hutzelbrot)
Ingredients
Dough
1

pound

dried pears

or dried apples or apricots, chopped small

1

pound

dried and pitted prunes

chopped small

375

grams

dried figs

chopped small

235

grams

dark raisins

3

cups

water

at room temperature

1

cup

candied citrus peel

1

cup

hazelnuts

chopped small

2

tsp

golden rum

5

drops

almond extract

2

tsp

vanilla extract

2 1/2

cups

organic, all-purpose spelt flour

also called white spelt flour

8

tsp

baking powder

1/4

cup

organic sugar

1

tsp

ground cinnamon

1/2

tsp

ground cloves

1/2

tsp

ground ginger

1/4

cup

butter

at room temperature
Egg Wash
2

large egg yolks

4

tbsp

milk
Instructions
In a large bowl, add the pears (or apples or apricots), prunes, figs, raisins and water. Weigh the fruit down in the bowl by placing a pot on top. Let soak overnight.

Preheat the oven to 350 degrees F. Line a large baking sheet with parchment paper and set aside. Make the egg wash by whisking the eggs yolks and milk together in a small bowl. Place in the fridge until needed.

Remove the weight from the bowl of fruit and add 1/2 cup of water along with the candied citrus peel, hazelnuts, rum, almond and vanilla extract. Stir to combine.

In a medium bowl, sieve together the spelt flour and baking powder. Add the sugar, cinnamon, cloves and ginger and whisk together to combine. Cut the butter into the flour mixture and mix using a pastry blender or your hands until the mixture resembles course crumbs.

Add the flour mixture to the fruit mixture and stir with a large spoon or spatula until everything is evenly distributed. Divide the dough into four equal mounds on the parchment lined baking sheet. Using wet hands, press each portion of dough together to form a loaf shape. Baste each with the egg wash.

Bake for 20 minutes, remove from the oven and baste again with the egg wash. Bake for another 20 minutes or until nicely browned on top. Let cool completely before serving or storing.
Recipe Notes
To easily chop the dried fruit small, place each batch of fruit one at a time in a food processor and pulse a few times until desired sized is reached.
These loaves freeze beautifully. I like to wrap each tight in plastic wrap and then in tin foil before freezing.