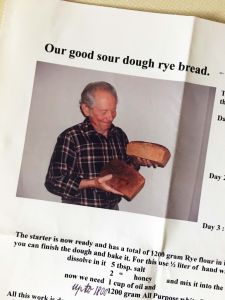 This is my Opa. For as long as I can remember slices of his Sourdough Rye Bread would be front and centre in the breakfast table feast when we came to visit. Surrounding it I would always find wedges of sharp cheese, thin slices of cured meats, a soft boiled egg or two, homemade jams and my favorites… cream cheese and honey. Mind you, when I was young, all I did was slather the cream cheese and honey on the fluffy Portuguese buns set down next to me, but my taste buds have evolved since then. 😉
This recipe for Sourdough Rye Bread was passed down to my Mom after Opa became fascinated with the wonders of a computer and figured out how to plop a photo onto a document. Once he got good at it he was printing pictures hither tither and even put together and printed his family history. For that and for this recipe I am absolutely grateful.
Although this bread is not a true sourdough (since it's initially mixed with some yeast – similar to a poolish) it has a distinct flavor that comes from fermenting half the dough over the course of four days. Yes four days! Don't let that dissuade you from trying it though, its takes mere minutes of your time each day. The natural yeasts that start to permeate the dough do all the rest of the work. 🙂
My Opa would make this bread six loaves at a time, mixing the dough in a large bucket with a dough hook he fashioned for the end of his electric drill. It was such a funny sight to see. Since I don't have such buckets and tools I've pared this recipe down to three loaves and concocted a no knead process so you won't be up to your elbows trying to mix dough!
After day three you will notice the rye sourdough starter has lots of bubbles on top and has a pleasant, fermented aroma to it. It may even smell a little fruity. This natural process has always fascinated and bewildered me, but the bread that it becomes… oh my.
When these loaves were finally cooled enough for me to slice, I cut one in half and inhaled deeply. I was immediately transported back to my Oma and Opa's breakfast table spread with goodies including this bread. I may not have readily eaten it back then, but that fresh, homemade bread scent happily lodged itself into my memories.
Happy baking!
If you liked this recipe you are going to love these ones!
Seedy Spelt No Knead Bread
Spelt Flour No Knead Bread
Sunflower Flax Seed No Knead Spelt Bread
No Knead Sourdough Rye Bread
Ingredients
1/2

tbsp

active dry yeast

1

litre

water

or 1000 grams

600

grams

organic, dark rye flour

1

tbsp

sea salt

1

tbsp

honey

125

ml

grapeseed oil

or other oil with little flavor

600

grams

organic, all purpose wheat flour

or organic, all purpose spelt flour (also called white spelt flour)

150

grams

sunflower seeds
Instructions
Day 1
In a large bowl, dissolve the yeast in 250ml of warm water. Add 200g of the rye flour and mix until completely incorporated. Cover the bowl with a large plastic bag or clean tea towel and let it ferment for 24 hours in a warm place.
Day 2
Add 250ml of warm water and 200g of the rye flour to the fermenting mixture and mix until completed incorporated. Cover the bowl again and place back in a warm place for 24 hours.
Day 3
Add an additional 250ml of warm water and 200g of the rye flour to the fermenting mixture and mix until completed incorporated. Cover the bowl again and place back in a warm place for 24 hours.

Put the sunflower seeds in a small pot and cover with water. Bring to a boil and simmer for 20 minutes. Drain and cool overnight.
Day 4
The mixture should be very bubbly now and smell quite fermented. In a small bowl, mix together the remaining 250ml (200ml if using spelt flour) of water, salt and honey. Stir this into the rye sourdough starter. Now add the oil (100ml if using spelt flour) and all purpose wheat flour into the starter and mix vigorously until completely combined. Add the sunflower seeds and mix again. Cover with the plastic bag or tea towel and place in a warm spot to rise until double (this will take a couple of hours depending on how warm the spot you have is).

Grease the bottom and sides of 3 loaf pans with butter and dust with wheat flour. Turn each loaf pan upside down and tap out the extra flour. Set aside.

Generously dust a work surface with wheat flour. Use a rubber spatula to gently scrape the dough out of the bowl in one piece. Using well floured hands gently pat the dough out into a rectangle. With a dough scraper (or a large knife) divide the dough into three equal pieces. Lightly flour the top of each piece. Pat one piece gently into a rectangle again if needed, fold one short side of the dough into the middle and then fold the other short side on top. Then fold the dough in half the other direction. Flour your hands again if needed, pick up the dough and place it in a prepared loaf pan, seam side down. Repeat with the other two pieces of dough. Let rise in a warm place until they rise about 50% (nearing the top of the loaf pans). I like to place them on the counter next to the oven as it warms up.

Preheat the oven to 400 degrees F. Boil some water in a kettle and place a small, shallow baking pan on the bottom rack of the oven.

When the dough has risen 50%, boil the water again (it won't take very long the second time). Dust the top of the loaves with flour and slice quickly with a bread lame, razor or knife (optional). When the water has boiled pour some of it into the small baking pan on the bottom rack and place the loaf pans onto the top rack.

Bake at 400 degrees F for 10 minutes then turn the temperature down to 350 degrees F and bake for 80 minutes.

Remove from the oven and place the loaf pans on cooling racks and let cool for 30 minutes before turning the pans upside down to release the bread. Cool completely before cutting.