Where have the last two months gone? It sure doesn't feel like it has been that long since I've posted a new recipe. I have certainly been baking since April, but have had ZERO energy to put into this blog. I know my Mom's ongoing struggle with recovery from cancer has definitely had an impact and although baking and writing are a place of solace and creativity for me, I have been dropping everything that is not absolutely essential. I didn't even bake a single loaf of bread for over 6 weeks…
Anyways, I feel like things are finally, sort of settling down and my blog is calling me back.
I know I'm a little late to the draw on strawberry recipes, but if you can still get your hands on some local strawberries… do it, do it! 😀  This Strawberry Yogurt Spelt Torte is of course best made with local, full of flavor strawberries, but would probably still be tasty with the grocery store versions. I've had this cake on my radar for a couple months as strawberry season started getting closer and when my guy and I brought home two flats of local strawberries from the Fraser Valley I knew it was time.
We all have my Mom to thank for this recipe. It's one she has made and raved about in the past, but of course the recipe lived in one of her little Dr. Oetker recipe books… that are all in German. I can sort of make out what the ingredients are, but ask me to figure out the instructions and I'm lost on the first word. Thank goodness for Mom, I don't think Google Translate would do quite the same job!
This cake was so yummy I will definitely be dreaming about it every Spring as strawberry season gets closer.
Happy baking!
Update June 18, 2019: I made this delicious cake again this year just in time for Father's Day. My Dad was pretty happy about it. 😉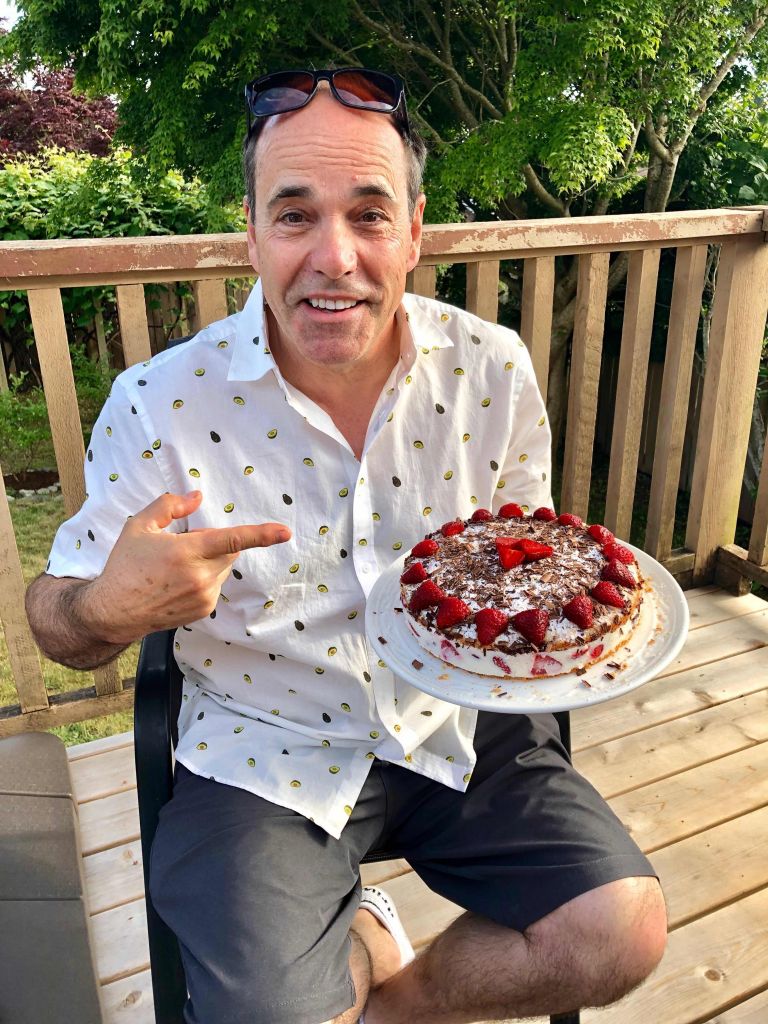 If you liked this recipe you are going to love these ones!
Apricot Quark Cheesecake with Spelt Flour
Traditional Plum Spelt Cake
Blackberry Spelt Tart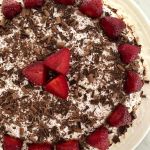 Strawberry Yogurt Spelt Torte
Ingredients
Cake
2

large eggs

2

tbsp

water

at room temperature

100

g

organic sugar

1

tsp

organic vanilla extract

75

g

organic unbleached, all-purpose spelt flour

also called white spelt flour

50

g

tapioca flour

1

tsp

baking powder
Filling
1

tbsp

gelatine

3

tbsp

water

at room temperature

3/4

cup

plain organic yogurt

125

mL

organic milk

75

g

organic sugar

1

tsp

organic vanilla extract

juice of 1 lemon

500

g

fresh, local, organic strawberries

125

mL

organic whipping cream
Decoration
icing sugar

dark chocolate

shaved
Instructions
Make the Cake
Preheat the oven to 375 degrees F and line a 26cm spring form pan with parchment paper. Set aside.

In the bowl of a stand mixer or in a large bowl with a hand mixer, whisk together the egg yolks and 2 tbsp of water together until foamy. Add approximately two-thirds of the sugar and vanilla extract and whip until the sugar has melted and the mixture is very creamy.

In another bowl beat the egg whites until very stiff. Add the remaining one-third of sugar and beat again until combined. Set aside. In a small bowl, sift together the spelt flour, tapioca flour and baking powder. Gently pour the egg white mixture on top of the egg yolk mixture and then add the flour mixture on top of the egg white mixture. Gently fold until just combined.

Pour the mixture into the spring form pan and spread evenly. Bake for 20 - 30 minutes or until golden brown. Remove from the oven and let cool on a wire rack before removing from the spring form pan. To remove from the spring form pan run a small, sharp knife around the perimeter before unlocking the sides of the pan. Flip upside down and remove parchment paper.
Make the Filling
In a small bowl mix the gelatine and water with a whisk. Set aside for a few minutes until it starts to swell and thicken. Using a double boiler or small pot with a little water under the bowl, melt and mix the gelatine on medium/low heat until clear. Set aside to cool until it is no longer hot, but still liquid.

In a medium bowl mix the yogurt, milk, sugar, vanilla extract and lemon juice until combined. Add the warm gelatine in a small stream while mixing and mix until well blended. Chill in the fridge to thicken. In a medium bowl whip the whipping cream until stiff peaks. Put the bowl in the fridge to keep cool.

Wash and drain the strawberries. Reserve 12 strawberries for decoration. Cut the remaining strawberries in half or quarters (for larger berries). Once the yogurt mixture thickens to a pudding consistency, remove it from the fridge and fold in the strawberries and whipped cream.
Assemble the Cake
Cut the completely cooled cake into two thin layers. I find this is easiest using a long bread cutting knife and turning the cake as I go. Place the bottom layer on a serving plate or other serving dish. Place and close the springform ring around the bottom layer. Gently pour the strawberry yogurt mixture on top of the bottom layer and spread gently and evenly. Place the top cake layer on top. Chill in the fridge until well set (a couple hours).

Slide a small, sharp knife around the cake to release the springform ring from the cake. Dust the cake with icing sugar, shaved chocolate and the 12 reserved strawberries cut in half.