Just a heads up: if you are looking for a healthy version of peanut butter cookies, these chewy peanut butter spelt cookies with chocolate drizzle are NOT it. 😀
These cookies are super chewy, perfectly sweet and extra decadent with chocolate drizzled all over them. The perfect treat for someone on their birthday… like my Dad!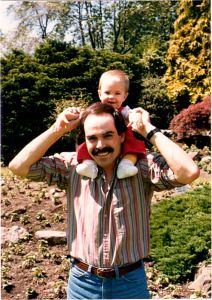 For as long as I can remember my Dad's favourite kind of cookies have been peanut butter and I have made them for him on his birthday more times that I can count. It started years ago when I would ask him what he wanted for his birthday. His response back then (just like today) was that he didn't need anything. I would pester and prod him only to be finally given the highly exciting "socks and underwear" answer. Sheesh. So I turned to making him things instead. Peanut butter cookies were high on my list every year. I would make a batch and they would disappear within hours. The next year I would double the batch and they would maybe last a couple days. Pretty sure he is hiding a cookie monster underneath that Dad exterior. 😉
Of course now he has my two fully grown half-brothers to contend with in the race for cookies. I've heard stories from my step-mom of huge batches of cookies disappearing in one afternoon between the three of them. Her solution? Put raisins in them. Dad can't stand raisins in anything thanks to his big brother and a perfectly timed comment about flies while they sat eating raisin oatmeal as kids. At least with raisins the cookies will last more than 24 hours. Ha!
It's been awhile since I've made peanut butter cookies for my Dad's birthday, but this year I wanted to make them really special, hence the chocolate drizzle and peanut bits. Since I live a little too far to hand deliver them these days I packed them up all snug and shipped them off. Crossing my fingers that they didn't arrive as crumbs and that there might still be one or two left for you enjoy today on your birthday.
Here's to my Dad, the one who turned our yard into a baseball field and tossed endless balls for me to whack, the one who took me to the track to watch him race every weekend and stoked my love of speedy cars, the one who whispered in my ear "slow down, savour it, you only get to enjoy this once" as he held out his arm and led me across the lawn towards my future husband.
If you're reading this Dad, happy birthday! I love you.
Happy baking.
If you liked this recipe you are going to love these ones!
Whole Grain Spelt Brownie Cookies
Oatmeal Chocolate Chip Spelt Cookies
Spelt Trail Mix Cookies
Chewy Peanut Butter Spelt Cookies with Chocolate Drizzle
Ingredients
Cookie Dough
3

cups

all-purpose, organic spelt flour

also called white spelt flour

1

tsp

baking powder

1

tsp

sea salt

1

cup

unsalted butter

at room temperature

1

cup

natural, creamy peanut butter

2

tsp

vanilla extract

1

cup

golden brown sugar

packed

1

cup

granulated sugar

2

large eggs

at room temperature
Toppings
1/2

box

Baker's semi-sweet chocolate

or approximately 125g of any good quality chocolate

1/4

cup

unsalted butter

1

cup

peanuts

finely chopped
Instructions
Make the Cookies
Preheat the oven to 350 degrees F and line two large baking sheets with silicone baking mats or parchment paper (if you have four large baking sheets line them all, otherwise bake the cookies in two batches).

In a medium bowl whisk together the spelt flour, baking powder and salt. Set aside. In the bowl of a stand mixer with the paddle attachment or in a large bowl with a hand held electric beater, beat the butter until fluffy. Add the peanut butter and vanilla and beat until combined. Scrape down the sides of the bowl. Add both sugars and beat again until well mixed and lighter in colour. Scrape down the sides of bowl again. Add the eggs one at a time, beating to combine in between each addition. Add half of the dry ingredients and mix on low until just combined, then scrape down the sides of bowl one more time. Add the rest of the dry ingredients and mix on low until combined.

Drop 1 1/2 inch spoonfuls of batter onto the cookie sheets two inches apart. Using damp hands roll each spoonful into a ball then use a wet fork to make the crosshatch pattern on top (rinse or wipe the fork off after a couple cookies otherwise it will stick). Bake for 15-18 minutes or until cookies are just barely golden on the edges. Let cool on the baking sheets for five minutes, then transfer to cooling racks to cool completely.
Decorate the Cookies (Optional)
Chop the peanuts or pulse them in a food processor until you have small bits. Arrange all the cookies on parchment lined cookie trays or on another protected surface.

Melt the chocolate and butter in a double boiler until smooth or in the microwave using a microwave safe bowl. Chocolate should run off a spoon with ease, if not add a little additional butter until you achieve the consistency you want. Drizzle the chocolate over each cookie using a small spoon and top with a small amount of peanut bits. Let the chocolate cool and set before storing cookies in an air tight container.