When I asked the birthday boy what kind of cake he wanted and he replied "carrot cake" I died a little inside. My only experience of carrot cake to date had been those big slab ones made in a deep baking dish… so not 'birthday worthy' cake.
So I went snooping online and the first recipe that showed up was this one from Sally's Baking Addiction. It caught my eye because it looked so darn pretty! Of course I had to tinker with it a little as I was going to make it with spelt flour (duh) and I was a little aghast at how much sugar was in it. I've swapped the wheat flour for white spelt flour here and cut back on both the sugar in the cake and the sugar in the icing. Believe me, it was still PLENTY sweet enough. The next time I make this simple beauty of a cake I would try cutting back the sugar even more.
Update: I made this deliciously simple cake for my man's birthday again this year and seriously cut back on the sugar again since I clearly remember needing a large glass of water just to finish my slice from the previous attempt. I've knocked the sugar in the cake dough back by another 1/2 cup and reigned in the sugar from 4 cups (seriously?!) of icing sugar to 1.5 cups in the cream cheese frosting. I much prefer it this time around and can actually taste the cheese flavor of the cream cheese. The sweet tooth's (aka my guy's) verdict? Delicious. Less sugar for the win! 😀
Happy baking!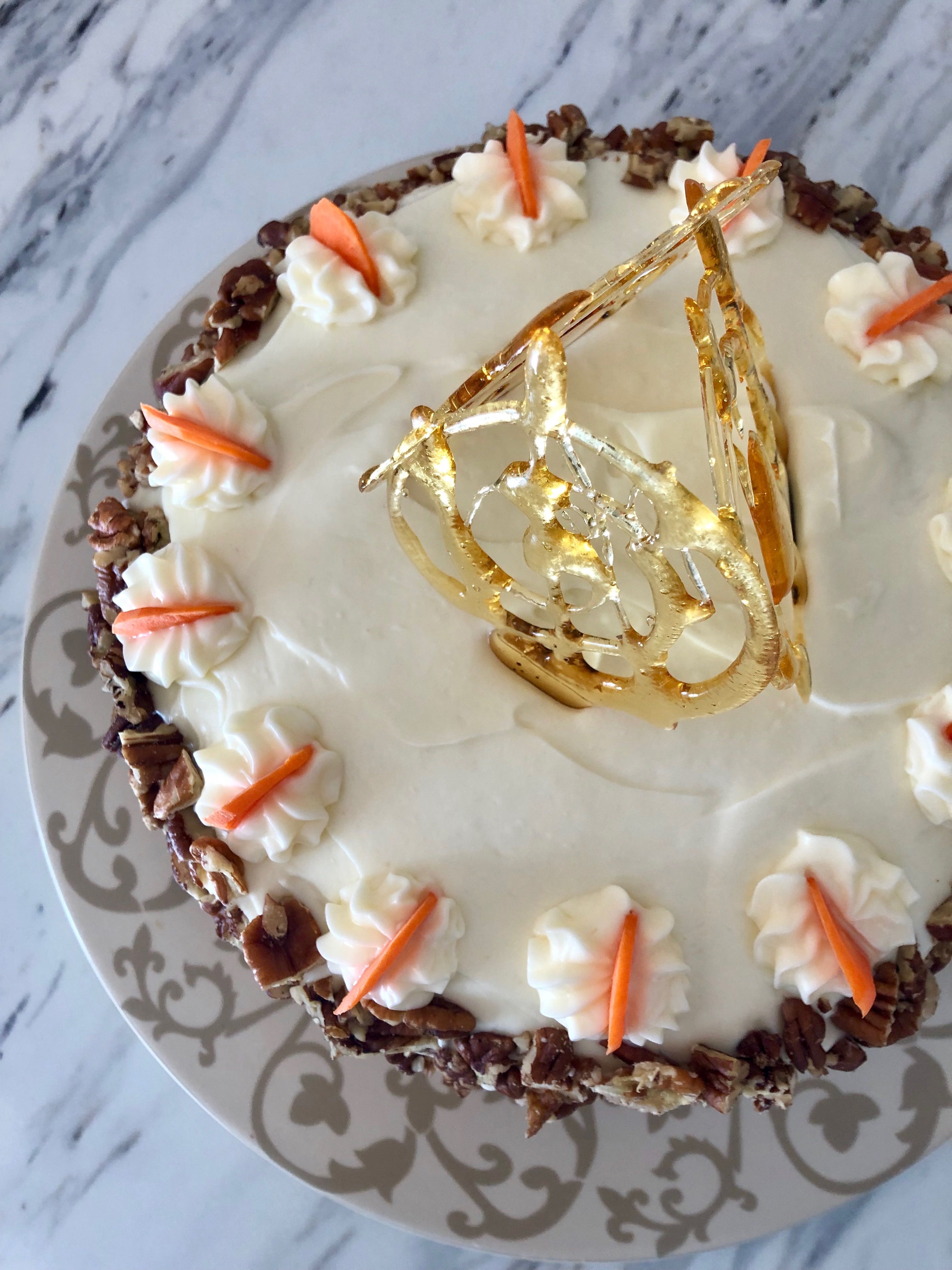 If you liked this recipe you are going to love these ones!
Strawberry Yogurt Spelt Torte
Apricot Quark Cheesecake
Upside Down Rhubarb Spelt Cake
Fancy Shmancy Spelt Flour Carrot Cake
Fancy looking, but simple and super moist carrot cake.
Ingredients
Cake
3

cups

chopped pecans

1

cup

dark brown sugar

packed

1

cup

grape seed oil

or other vegetable oil

4

large eggs

3/4

cup

applesauce

preferably homemade

1

tsp

vanilla extract

2 1/2

cups

organic all purpose, unbleached spelt flour

(also known as white spelt flour)

2 1/2

tsp

baking powder

1

tsp

baking soda

1/2

tsp

sea salt

1 1/2

tsp

ground cinnamon

1

tsp

ground ginger

1/4

tsp

ground nutmeg

1/4

tsp

ground cloves

2

cups

grated carrots

about 4 large carrots
Cream Cheese Frosting
500

g

full-fat cream cheese

softened to room temperature

1/2

cup

unsalted butter

softened to room temperature

1 1/2

cups

confectioners' sugar

1

tsp

vanilla extract

pinch of sea salt
Decorations
12

carrot slices

caramel swirls

link to recipe below in notes
Instructions
Preheat oven to 300 degrees F. Line a large baking sheet with parchment paper. Spread the chopped pecans on the sheet and toast for 8 minutes. Remove from the oven and allow to cool.

Turn the oven up to 350 degrees F. Lightly rub butter all over the inside of two round 9-inch cake pans (I like to use a small piece of wax paper to do this).

In a large bowl, whisk the brown sugar, oil, eggs, applesauce, and vanilla together until combined and no lumps of sugar are left. In another large bowl, whisk the flour, baking powder, baking soda, salt, cinnamon, ginger, nutmeg, and cloves together until combined.

Add the wet ingredients into the dry ingredients and fold the ingredients together gently using a spatula until just combined. Fold in the grated carrots and 1 cup of the toasted pecans. The rest of the pecans will be used to decorate the outside of the cake.

Pour the batter evenly into the two cake pans. Bake for 30-35 minutes or until a toothpick inserted into the centers comes out clean. Allow the cakes to cool completely in the pans set on a wire rack.

To make the frosting, beat the cream cheese and butter together on medium speed until smooth, about 2 minutes. Add the confectioners' sugar and beat for 2 more minutes. Add the vanilla and beat on high for another 2 minutes. Taste the frosting and add a pinch of salt if it is too sweet. The frosting should be nice and thick.

To assemble and finish the cake, first cut off the top layer of one of the cakes with a large serrated knife to create a flat surface. Place that layer on your cake stand or serving plate. Evenly cover the top with frosting. Place the second cake on top and spread the remaining frosting evenly over the top and sides. Sprinkle the rest of the pecans evenly on the cake stand or serving plate around the base of your cake. Using a wide knife or spatula scoop from underneath the pecans, lift and gently press them into the icing. Pipe 12 florets on top and gently press a slice of carrot into each. Place caramels decorations (link to recipe below in notes) if desired. Chill cake before serving.