Ooooooh these Lemon Rhubarb Spelt Muffins gave me a run for my money! I first made them last Spring when my backyard rhubarb started growing with gusto, but didn't have a chance to post them on my blog (life with a one year old got in the way 😉 ). So I carried on making them throughout the year, usually with frozen blueberries, keeping it in the back of my mind to get them on the blog when Spring rolled around again. This recipe had other ideas. On my first attempt they all spread into each other like pancakes, spilled over the sides of the muffin pan into the bottom of my oven and spewed smoke everywhere! Oooh I was mad.
On the second attempt, I went back to my notes, adjusted my method and the exact same thing happened. Fortunately they were salvageable and edible (although not the pieces burnt to a crisp on the pan I remembered to put underneath this time just in case). Who knows exactly what was going on. The only reason I believe this happened is because my original Lemon Rhubarb Spelt Muffins recipe included not only the zest from one lemon, but also the juice. I think the lemon juice was trying to make baking soda volcanoes out of my muffins!
Third attempt is what you see below. No lemon juice, no issues. Whew. A riff on my Raspberry Oatmeal Spelt Muffins, these Lemon Rhubarb Spelt Muffins have the same oatmeal muffin base with a few tweaks to the spices (namely cinnamon and cardamon). This time around I topped them with a brown sugar streusel that also has lemon zest in it which makes up for the lemon flavour from the lemon juice I am no longer using, but also perfectly balances the tartness of the rhubarb.
Happy baking!
Sophie
If you liked this recipe you are going to love these ones!
Rhubarb Spelt Scones
Upside Down Rhubarb Spelt Cake
Raspberry Oatmeal Muffins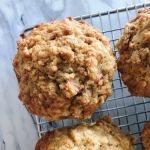 Lemon Rhubarb Spelt Muffins with Streusel
Ingredients
Lemon Rhubarb Spelt Muffins
2

cups

rhubarb

chopped small

3/4

cup

brown sugar

packed

1

tsp

sea salt

1/2

tsp

ground cinnamon

1/8

tsp

ground cardamom

1

tbsp

lemon zest

from approximately one large lemon

2

cups

rolled oats

1 1/2

cups

buttermilk

2 1/2

cups

organic all purpose, unbleached spelt flour

2

tsp

baking powder

1

tsp

baking soda

1

cup

grape seed oil

2

large eggs

2

tsp

vanilla extract
Lemon Streusel
1/3

cup

brown sugar

lightly packed

1/4

cup

organic all purpose, unbleached spelt flour

1 1/2

tbsp

cold butter

1

tsp

lemon zest
Instructions
Preheat the oven to 425 degrees F. Combine the rhubarb, brown sugar, salt, cinnamon, cardamom and lemon zest in a small bowl. Set aside. Combine the oats and buttermilk in a large bowl. Set aside. Both mixtures need to sit for approximately 15 minutes while everything else is prepared.

Prepare the streusel in a small bowl by combining the brown sugar, spelt flour, butter and lemon zest. Rub and mix with your fingers until it resembles course crumbs.

Mix together the spelt flour, baking powder and baking soda in a small bowl. In a glass measuring cup, whisk together the oil, eggs and vanilla extract.

Add the oil mixture to the oats and buttermilk mixture and stir to combine. Gently fold in the flour mixture until almost mixed and then add the rhubarb mixture. Fold until completely incorporated.

Line a muffin pan with muffin cups or grease the muffin pan with butter. Fill each muffin cup really full so that each one is heaped. Top with streusel.

Bake at 425 degrees F for 10 minutes. Lower the temperature to 375 degrees F for another 12 – 15 minutes or until a toothpick poked in the centre of a muffin comes out clean.

Remove from the oven and let the muffins cool for at least 20 minutes in the muffin pan before removing to finish cooling on a wire rack.