New year, new ancient grain! I first made these teff and spelt blueberry waffles months ago when a friend of mine brought me a bunch of Bob's Red Mill flour samples to tinker around with and I made them again over the holidays when I was finally able to track down some teff flour via good ol' Amazon
… it's even packaged here in BC!
What the heck is Teff?
Teff is an ancient grain that is about the same size as a poppy seed and has a mild, nutty (and I think a little chocolatey) flavor. Teff also packs a serious nutritional punch as it is high in protein, calcium and iron. It's naturally gluten free and in it's flour form is used to make a traditional Ethiopian flatbread called injera.
Personally, I love how teff flour gives the waffle dough a beautiful dark colour and flavor, almost as if I had added a little cocoa powder. Although there are no eggs in this recipe, the protein in both the teff and spelt flour easily makes up for it as these are some serious stick to your ribs, won't need lunch kind of waffles.
Of course I added blueberries into this recipe too (not sure I can go back to regular waffles after having blueberries INSIDE them). I might even like them better than my Blueberry Whole Spelt Waffles. 🙂
Happy baking!
If you liked this recipe you are going to love these ones!
Blueberry Whole Spelt Waffles
Blueberry Bran Spelt Muffins
Blueberry Lemon Spelt Scones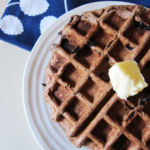 Teff and Spelt Blueberry Waffles
Ingredients
2

cups

teff flour

2

cups

organic all purpose unbleached spelt flour

also known as white spelt flour

1

tsp

baking powder

1

tsp

baking soda

2

tsp

sea salt

2

tsp

ground cinnamon

dash of ground nutmeg

2

tsp

organic sugar or local honey

3

cups

buttermilk

or almond milk or other non-dairy milk

2

tbsp

grapeseed oil

or other high quality oil

2

tsp

vanilla extract

2

cups

fresh or frozen blueberries

optional

coconut oil to grease the waffle iron
Instructions
If using frozen blueberries, put them in a medium bowl with warm water and allow to thaw. Set aside. Preheat a waffle maker to medium/high heat and the oven to its lowest temperature setting.

In a large bowl mix all the dry ingredients together and whisk to combine. In another bowl or large pyrex mixing cup mix all the wet ingredients together and whisk to combine.

Drain the blueberries and fold them into the dry ingredients. Pour the wet ingredients into the dry ingredients and fold gently until combined.

Grease the waffle iron in between each batch (the blueberries can stick). Make one waffle at a time and transfer finished waffles to the oven racks to keep warm until the final waffle is made.