Although it's slowly getting lighter a little longer in the evenings, this dark-at-5pm business is making me feel sooooo uninspired to bake or write or do anything much at all except maybe snack on these Seedy Spelt Flatbread Crackers. They are so easy and so tasty it will be hard to go back to store bought crackers once you've tried these.
This lack of inspiration is not because I don't have new recipes to share with you all… they are sitting there, ready to go, just waiting for me to write something about them. I think it's more because my ego gets in the way. The conversation usually goes something like this:
Ego: Those photos aren't good enough. You should make the recipe again and take better photos. And you have nothing to write so don't bother.
Heart: The photos are just fine and it doesn't matter what you write. Just go and share your perfectly imperfect post.
Ego: No! It must be perfect, otherwise no one will care!
Heart: It doesn't matter if no one cares, keep creating and putting yourself out there simply for you.
So here I am, sharing this recipe with you, and telling my ego to go take a hike.
Happy baking!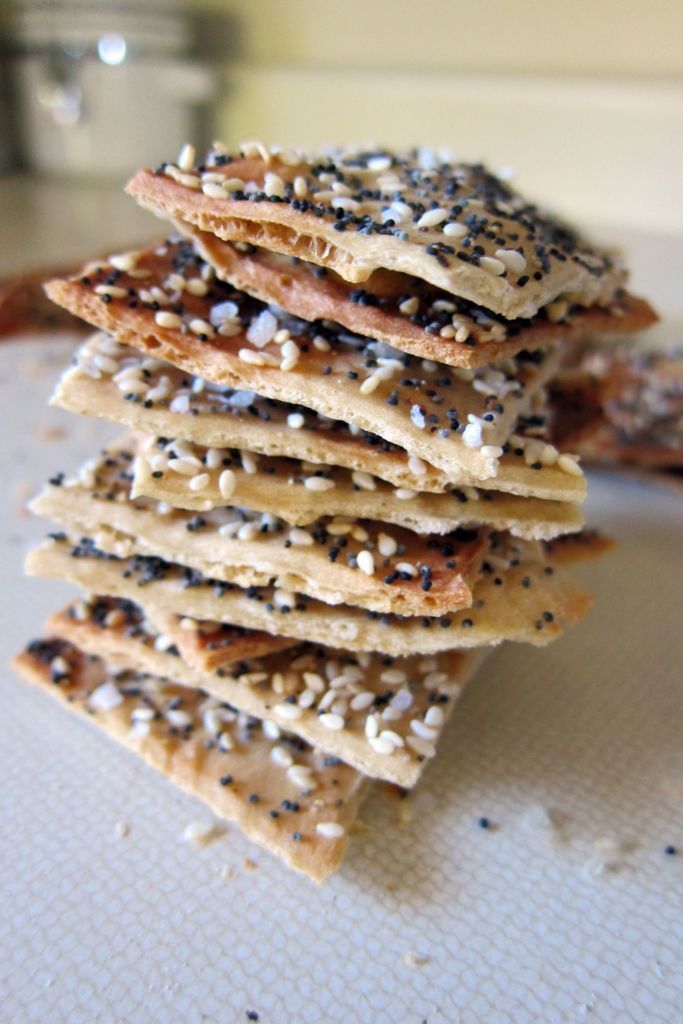 If you liked this recipe you are going to love these ones!
Whole Grain Spelt Fruit and Nut Crackers
Toasted Ancient Grains Muesli
Spelt Trail Mix Cookies
Seedy Spelt Flatbread Crackers
A wonderfully snappy and salty cracker that pairs deliciously with dips, cheeses or just eaten on its own like a chip.
Ingredients
1 1/2

cups

organic, all purpose unbleached spelt flour

also known as white spelt flour

1/4

tsp

sea salt

1/2

cup

cold water

sesame seeds

poppy seeds

course sea salt

black pepper
Instructions
Preheat your oven to 350 degrees F. Pull out a large (12" x 17") cookie sheet and set aside. In a small bowl, dissolve 1/4 tsp of sea salt in the cold water. In a another bowl, measure out the spelt flour and then add the liquid. Stir until combined and then knead gently for a few minutes until the dough forms a smooth ball.

Generously flour a work surface. Flatten the dough gently with your hands and roll the dough out evenly but slightly smaller than the cookie sheet. Use as much flour as you need to prevent the dough from sticking to the sheet and the roller from sticking to the dough. Dust the dough with flour, fold in half, dust again, and fold in quarters. Gently pick up the dough and lay it out on the cookie sheet.

Using a fork, prick the dough all over to help prevent air pockets developing during baking. Using a spray bottle filled with water, spray the top of the dough so it is glossy and sprinkle the sesame and poppy seeds on top along with the course sea salt and freshly cracked black pepper. Score the dough into grids with a sharp knife or pastry roller.

Bake for 15 - 20 minutes until the dough is crisp and golden brown. Remove from the cookie sheet and let cool for a few minutes before breaking along the score lines.