The sign of a great recipe is one that gets passed along from friend to friend to friend right? This one for whole grain spelt fruit and nut crackers is my take on a recipe called "Abbey's Crackers" that a friend passed to one my Oma's neighbours, who passed it my Oma, who passed it to me (and then to a bunch of her friends of course).
Oma has been making these crackers for years, bringing them out to snack on with a variety of cheeses every time I visit (which sadly has not been lately, thanks Coronavirus), knowing that I would go snooping in her cupboards to find one to crunch on if she didn't. I've had this recipe in my collection probably just as long as she's been making them, sitting in the pile of recipes from my Oma, my Opa and Mom that I'm slowly making my way through and immortalizing here on my blog. It was high time I did something with it.
I had a hard time waiting until the very end of the recipe to nibble on these and quickly discovered that a slice from the loaf before baking them into crackers is very tasty, soft and delicious with a smear of cold butter. I blame the baby bump. 😉 Hopefully you all have more patience than I do!
If you don't end up simply eating the entire loaf or giving in to your hubby's request for "just one more slice" before turning them into whole grain spelt fruit and nut crackers, they are superb with any kind of cheese or even a little cream cheese and my Oma's famous jalapeño jelly… but that recipe is for another time.
If you liked this recipe you are going to love these ones!
Seedy Spelt Flatbread Crackers
Spelt Trail Mix Cookies
Very Nutty Granola Clusters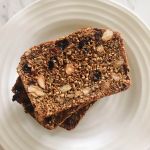 Whole Grain Spelt Fruit and Nut Crackers
Ingredients
1 1/2

cups

organic, whole grain spelt flour

1/2

cup

golden or dark raisins

1/2

cup

dried cranberries

3/4

cup

almonds

roughly chopped (or other kind of nut)

1/2

cup

flax seeds

finely ground

1/2

cup

sesame seeds

1/4

cup

brown sugar

packed

1/2

tsp

baking soda

1/2

tsp

sea salt

1

tsp

fresh rosemary

finely chopped

1 1/4

cups

full fat buttermilk

or thick yogurt and 3 tbsp water

1/4

cup

honey
Instructions
Preheat the oven to 325 degrees F. Grease a loaf pan and set aside.

In a large bowl mix together all of the dry ingredients. Add the buttermilk and honey and mix until everything is well combined. Press the mixture into the greased loaf pan and smooth the top of the dough.

Bake for 50 minutes or until the sides and top of the loaf are golden brown. Remove from the oven, run a sharp knife around the edge of the loaf, remove from the pan and let cool completely on a cooling rack.

Once completely cool, preheat the oven again to 260 degrees F and line two large baking sheets with silicone mats or parchment paper. Using a very sharp serrated bread knife, cut very thin slices from the loaf, no more than a 1/4 inch thick. Place the slices close together on the baking sheets and bake for another 60 to 75 minutes, flipping the slices half way through, until they are dark golden brown. Remove and let cool on the baking sheets. The crackers will continue to crisp as they cool. Store in an airtight container at room temperature.